ASUP Suspends Nationwide Strike
ASUP suspends nationwide strike, The Academic Staff Union of Polytechnic (ASUP) has called a halt to its nationwide strike. This was stated in a statement signed by the union's Secretary-General, Shammah S. Kpanja.
ASUP Suspends Nationwide Strike
According to the statement, "Following the successful completion of the nationwide chapter congresses and the compilation of the outcomes of these congresses as directed by the Union's emergency meeting of the National Executive Council (NEC), I am directed to communicate the suspension of the Union's national industrial action effective Thursday, June 10th, 2021.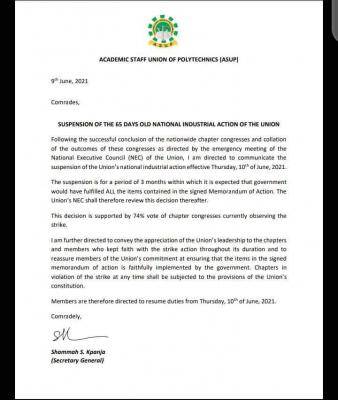 The suspension is in effect for three months, during which time the government is expected to have completed ALL of the items in the signed Memorandum of Action. As a result, the Union's NEC will revisit this decision in the future. This decision has received 74 percent support from chapter congresses that are currently on strike.
I am also directed to express the Union's gratitude to the chapters and members who remained committed to the strike action throughout its duration and reassure members of the Union's commitment to ensuring that the items in the signed memorandum of action are faithfully implemented by the government. At any time, chapters that violate the strike will be subject to the provisions of the Union's constitution.
Members are thus directed to resume duties on Thursday, June 10, 2021."
---